Oh my word, how I love Marissa Meyer. I remember I put off reading Cinder for the longest time because it didn't look like "my kind of book." Oh ho ho how wrong I was. Dystopian sci-fi world with a focus on Chinese culture? Retellings of fairytales? Awesome heroines and exquisite writing? Yeah, definitely my kind of book. Now the last book in the series doesn't come out until November (sadface) but in the meantime Marissa Meyer has released a companion novel about the evil Lunar queen, Levana. Oh wow. So much excitement going on over here.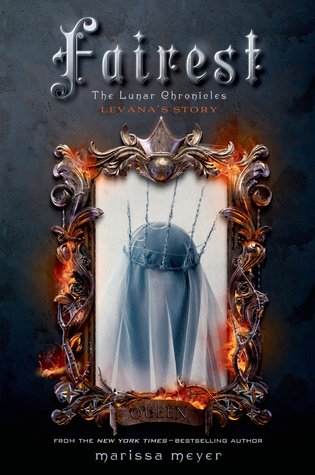 Retrieved from Goodreads
Levana is a princess in the Lunar colonies, but she won't be queen. Now that her parents are dead, assassinated, her sister has been crowned queen. Levana has more of a talent at politics and governing, but at fifteen no one cares what she has to say. Not even the love of her life, Evret, a royal guard who's not only married, but also has a child on the way with his beautiful wife. Levana wishes she were beautiful, and the queen. But she's getting better at her glamours, and who knows how long her sister and niece will live...
So twisted, so sad, so so so good. I read this book in one sitting. This story really helps shape Levana from a villain who's cool but whose motives seemed to just be "do evil" into someone tragic and flawed and increasingly sadistic. The last half of the book I felt so sad for her and so scared for her. This book starts and ends before Cinder starts, but you get to see so many links to the books and the characters who will become important. And oh my gosh, little Cinder! Knowing what happened to her, what her mother was like. Yeah, I guess you could say I loved this book because it was so sad. Levana lived a life without real love, and it really screwed her up. As always Meyer's writing is beautiful and tight and flows seamlessly. I can't wait for Winter to come out.
Goodreads Rating: 5 Stars
Up Next: Eleanor & Park by Rainbow Rowell