It's November, so it's NaNoWriMo season! I've been working hard at my sixth book, a retelling of Cinderella with an assassination plot! It hasn't left me with much energy for reading, both with my brain and my eyes. So I haven't been reading much, even though I have a couple books I'm really hankering to read (Winter by Marissa Meyer!!!). I actually finished reading 13 Little Blue Envelopes like two weeks ago, but, you know...tired. But anyway, on to the review!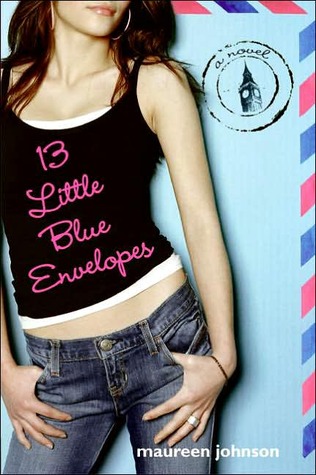 Retrieved from Goodreads
Seventeen-year-old Ginny Blackstone just got thirteen envelopes from her aunt who passed away. Inside the first envelope is a letter with $1000 telling her to fly to London. Each letter will have directions in what to do and where to go, all of them around Europe. So Ginny is off to discover Europe and herself, and maybe find out more about her elusive, wandering aunt.
Okay, pros and cons of this book. Pro: It takes place all over Europe, including three places I've personally been to. I spent three months in London a couple years ago and fell in love with the city. To seeing Ginny navigate the different customs and transportation and museums of London caused a very mushy wave of nostalgia in me. The same goes for Edinburgh and Paris. Pro: Aunt Peg was very very flawed, and it showed in her letters and in her life. Pro: What happens in Greece seemed very realistic at a point when I needed something to go wrong for Ginny. Con: I didn't know anything more about Ginny at the start of the book than the end. Con: Implausibility of overprotective parents to allow their daughter to go travelling Europe with no phone, no laptop, no communications, and no extra money. Yeah....no, not going to happen. Con: The romance. Snooooooze. Con: Underdeveloped secondary characters, which is something that can really harm stories like this.So, overall, a quick, easy read that made me want to go back to Europe.
Goodreads Rating: 3 Stars
Up Next: Winter by Marissa Meyer