That's a wrap, folks! Not only have I finished off Winter by Marissa Meyer, the last book in the Lunar Chronicles, I've also completed my fifth year of NaNoWriMo! Now, my sixth book, a retelling of Cinderella (funnily enough), isn't yet complete, having maybe another ten thousand words to go, but I still call hitting the fifty thousand word mark a success. The last couple days were done back in my home state of Washington, where the weather for the holidays was icy and my family inviting. My mom is also a reader of the Lunar Chronicles, so I felt a bit bad when I had 200 pages left when I boarded my flight away from Washington. But I'm done now!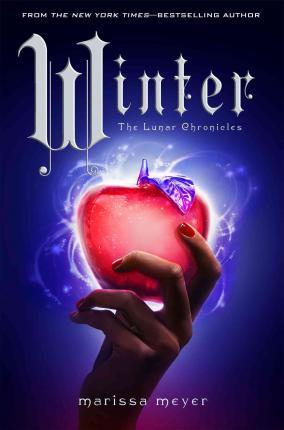 Retrieved from Goodreads
Revolution has come to Luna. The cyborg Cinder, also known as Princess Selene, has returned with the hacker shell Cress, the thief Thorne, the farmer Scarlet, her alpha fighter Wolf, and the android Iko to reclaim her throne. With Emperor Kai set to marry Levana and crown her Empress of the Eastern Commonwealth, time is running out to bring the tyrant down. Already on Luna are Jacin, a guard who grew up in the palace, and Winter, Levana's stepdaughter, the most beautiful girl on Luna. Only, Winter refuses to use her Lunar gift, and it's slowly driving her insane. All these past characters join together for one last push to save Earth from the wrath of Queen Levana.
Man, I have so many mixed feelings about this book. I guess I'll do what I usually do when I can't decide. Pros first, then cons. 1) It was awesome to see all my favorite characters together for the final battle. 2) I felt like the insight into Levana that was developed in Fairest was represented here. 3) Winter's insanity was at the same time realistic and poignant, without being the only point of her character. 4) Iko is awesome as usual. 5) Well developed world, despite the fact that most of the series doesn't happen on Luna. Cons: 1) The middle dragged a bit. I wanted to get back to the action, and I think having so many points of view bogged down the story. 2) Whereas the last three books spent more time on their titular character and love interest, I felt like Winter and Jacin were barely represented here. I would have liked to have seen more of them. 3) [BIG SPOILERS AFTER THIS] I have mixed feelings about Cinder's plan to release a video of Levana to show what she really looks like. On the one hand, knowing what I know about Levana from Fairest, this would absolutely break her and could bring her down. But having this be the crux of Cinder's plan, when she didn't know that was Levana's weakness, made it seem like Cinder thought the best way to show the people how bad Levana was, was to show her as ugly. And that's just...wrong. She was a megalomaniac narcissist. It didn't matter that she was disfigured under her glamour, she was evil. 4) Maybe this makes me a bad person, but I kind of wanted one of the main characters to die. Cress or Wolf or someone. It just seemed too perfect that they all lived, although injured, considering how powerful the Lunars and their wolf soldiers are.
All in all, I still adore Marissa Meyer and will read her next series. It just felt like this one had too many main characters to be as smooth a ride as the last three.
Goodreads Rating: 4 Stars (More like 3.5)
Up Next: Their Fractured Light by Amie Kaufman and Megan Spooner