And here we are, the last book in the Seven Realms series. I received the first book in this series two years ago for my birthday, and it sat on my shelf for over a year because I couldn't get into the first chapter. Eventually I pushed through because I'd heard such good things about the series, but that it started slowly. Then I binge-read the other three books in a matter of months. That should give you some indication of what I thought of them.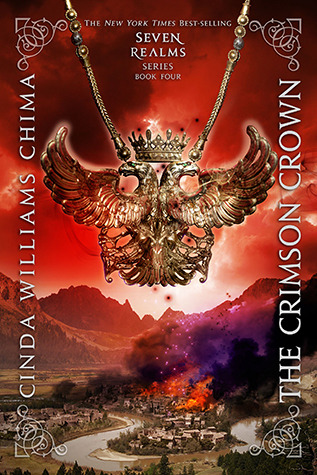 Retrieved from Goodreads
Raisa ana'Marianna has been crowned Queen of the Fells, much to the dismay of those who supported her sister Mellony, including people on the Wizard Council and those abroad who thought she would be easier to manipulate. Raisa has so many things to contend with: she's trying to replace the mercenary army with native-born peoples, there is always conflict between the wizards and the Clans, and of course everyone has an idea of who she should marry. Raisa has known for a long time she would make a political marriage rather than a love match. But she can't stop herself thinking about Han Alister, the street lord turned wizard and lord who is also her bodyguard. He has plans to marry her, though she doesn't know that. He's willing to do whatever it takes to prove he can be a part of her world. But he has no friends among the Wizard Council, and not even the Clans trust him anymore. With danger pressing in on every side, Raisa and Han don't know who to trust, or even if they can trust each other.
Oh. My. Word. How beautifully all the threads pull together in this final book. Things that were mentioned in the second book become important, minor characters get more fleshed out, the political debates are deliciously biased and evil, and there is a war and a strong female lead and some interesting magic. It's really well done. I applaud Raisa and Han for being separate, interesting characters, not needing to be in the same scene in order to be good, but when they are together it's electric. I honestly had no idea how the queendom was going to break the siege when it happened, and I hung on every debate in the Wizard Council and queen's meetings because they were so well written. I adored this book. If anything, I wish it had been longer because (spoiler) the war wasn't over when the book ended. However, I know Chima is writing a new series set in the same world, so maybe it'll come into play there. Loved this book, loved how fleshed out the world and the different peoples were, loved how everything slowly unraveled over four books that were each very important in their own way. Well done, Chima, well done.
Goodreads Rating: 4 Stars (more like 4.5)
Up Next: Ella Enchanted by Gail Carson Levine